** Please Note - This article may no longer be up to date. This Help Center is being left active for archival purposes. For the most up-to-date info, please see our new Help Center at https://ripstopbytheroll.com/pages/help-center-main
At the bottom of the shopping cart page, we offer a shipping calculator. Once you have all the items in your cart, select your country and postal code, then hit "Calculate Shipping Rates" to view available options, estimated delivery dates, and costs. The shipping options provided vary by location and items in your cart.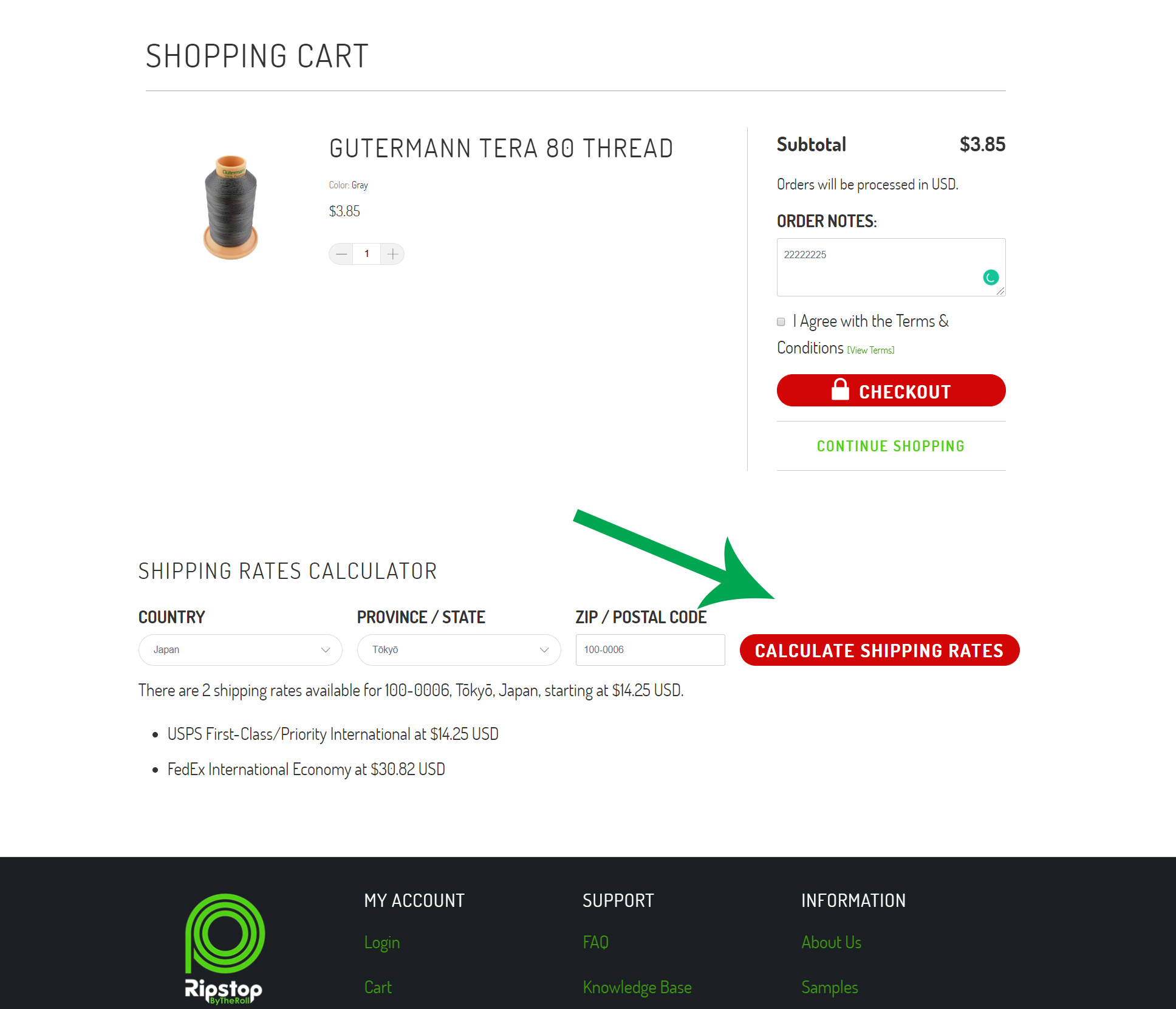 Roll Goods Shipping
If you are having fabric shipped on a roll, you will not be able to use the calculator to determine the shipping cost. Please scroll down for important information about requesting shipping estimates on roll orders.
Due to the widely varying size and bulk of roll orders, shipping costs are not able to be calculated until after the order is packaged. Because of this, you are not charged shipping at the time the order is placed.
Instead, you will receive a second invoice for the exact shipping cost once your order is ready to go. Your order will not ship until that second invoice is paid.
Below is an example of what your shipping option will look like. The charge for shipping will show $0.00 because you are not being charged shipping at the time of order. It does not mean you are getting free shipping.
Shipping estimates for roll goods:
If you must have an estimate for roll shipping cost prior to placing an order, submit a shipping estimate request to orders@ripstopbytheroll.com containing the full shipping address and a screenshot or list of all items you are wanting to order.
Please note, we may take 1-2 business days to get a quote back to you, depending on the number of requests we have received and the size or complexity of your request. If you have a specific deadline to receive the order, please include that in your email as well.